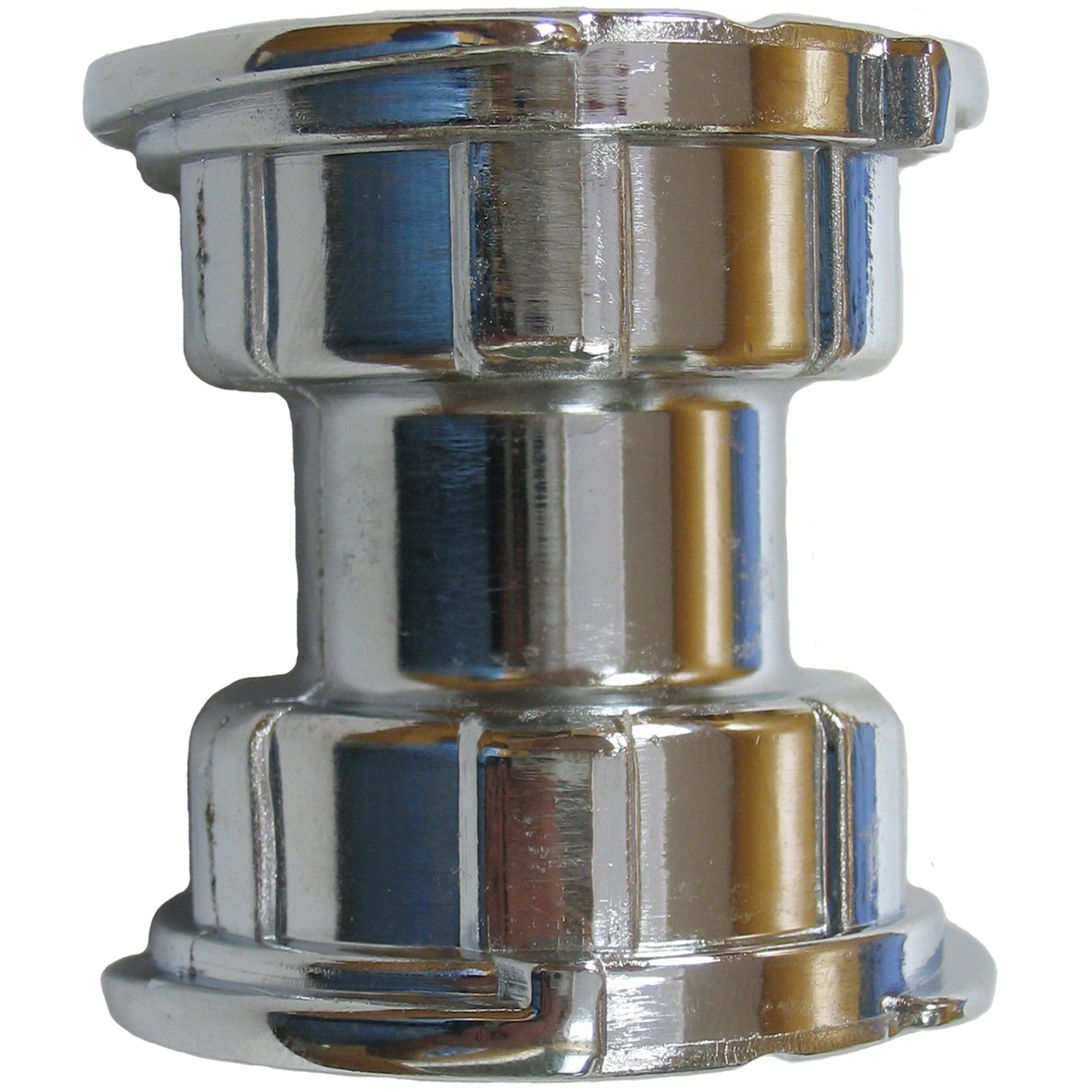 Cooling System Adapter - Stant - Stant Cooling System Adapter (Part Number: 12552)
Key Search Words: Cooling, System, Adapter
Marketing Description: Adapter for \"A\" size radiator caps. Made of metal. Used to test 3/4\" deep caps only.
AAIA Part Type Description: Cooling System Adapter
Application Summary: AM General DJ5 74-72, 70-69, AM General Hummer 01-96, Acura Integra 89-86, Acura Legend 89-86, Alfa Romeo Spider 89-86, American Motors AMX 80-78, 70-68, American Motors Ambassador 74-58, American Motors American 68-58, American Motors Classic 66-61, American Motors Concord 83-78, American Motors Eagle 88-80, American Motors Gremlin 78-70, American Motors Hornet 77-70, American Motors Javelin 74-68, American Motors Marlin 67-65, American Motors Matador 78-71, American Motors Pacer 80-75, American Motors Rambler 69, 60-58, American Motors Rebel 70-66, 60-58, American Motors Spirit 83-79, Audi 100 Series 77-72, Audi Fox 79-73, Audi Super 90 72, Austin America 70-68, Austin Marina 75-73, BMW 1600 71, BMW 1600-2 71, BMW 1602 71, BMW 1800 71, BMW 1802 71, BMW 2.8 Bavaria 71, BMW 2000 72-71, BMW 2000tii 72-71, BMW 2002 76-71, BMW 2002ti 71, BMW 2002tii 74-71, BMW 2500 71, BMW 2800 74-71, BMW 2800CS 71, BMW 3.0CS 74-72, BMW 3.0CSi 74-72, BMW 3.0S 74-71, BMW 3.0Si 76-75, BMW 320i 83-77, BMW 524td 86-85, BMW 528i 81-79, BMW 530i 78-75, BMW 533i 84-83, BMW 535i 88-85, BMW 630CSi 78-77, BMW 633CSi 84-78, BMW 635CSi 89-85, BMW 733i 84-78, BMW 735i 86-85, BMW Bavaria 74-72, BMW M3 91-88, BMW M5 88, BMW M6 88-87, Buick Apollo 75-73, Buick Centurion 73-71, Buick Century 05-73, Buick Commercial Chassis 93-91, Buick Electra 90-59, Buick Estate Wagon 83-70, 64-59, Buick GS 350 69-68, Buick GS 400 69-68, Buick GS 455 72-70, Buick GS 72-70, Buick Gran Sport 67-65, Buick Invicta 63, Buick LeSabre 05-59, Buick Park Avenue 05-91, Buick Reatta 91-88, Buick Regal 04-73, Buick Rendezvous 07-02, Buick Riviera 99-95, 93-63, Buick Roadmaster 93-91, 58-50, Buick Roadmaster Series 70 49-48, Buick Skyhawk 89-82, 80-75, Buick Skylark 91-75, 72-61, Buick Somerset 87-86, Buick Somerset Regal 85, Buick Special 69-61, Buick Sportwagon 72-64, Buick Terraza 06-05, Buick Wildcat 70-63, Cadillac 60 Special 93, Cadillac Allante 93-87, Cadillac Brougham 92-87, Cadillac Calais 76-65, Cadillac Cimarron 88-82,
Product Description - Invoice: Cooling System Adapter
Short Product Description: Cooling Sys Adapter
CTO: MX
Harmonized Tariff Code (HTS): 9026906000
Life Cycle Status Code: 2
Life Cycle Status Description: Available to Order
SDR Required Flag: N
National Popularity Description: Next 15% of Product Group Sales Value
Maximum Cases per Pallet Layer: 12
Pallet Layer Maximum: 7
Product Details

Manufacturer:

Stant

Part Number:

12552

Manufacturer Part Number:

12552

Description:

Cooling System Adapter

Long Description:

Stant Cooling System Adapter

Part Type:

Cooling System Adapter

Category:

Tools And Equipment

Subcategory:

Hardware Fasteners And Fittings

Sales Rank:
Technical Details

Weight:

3.463 lbs.

Height:

2.963"

Width:

2.775"

Length:

2.775"

UOM:

EA

Quantity Sold:

Sold individually

Qty Per Application:

1

Minimum Order Qty:

1

Item GTIN:

333420255232
Specifications

Key Search Words

Cooling, System, Adapter

Marketing Description

Adapter for \"A\" size radiator caps. Made of metal. Used to test 3/4\" deep caps only.

AAIA Part Type Description

Cooling System Adapter

Application Summary

AM General DJ5 74-72, 70-69, AM General Hummer 01-96, Acura Integra 89-86, Acura Legend 89-86, Alfa Romeo Spider 89-86, American Motors AMX 80-78, 70-68, American Motors Ambassador 74-58, American Motors American 68-58, American Motors Classic 66-61, American Motors Concord 83-78, American Motors Eagle 88-80, American Motors Gremlin 78-70, American Motors Hornet 77-70, American Motors Javelin 74-68, American Motors Marlin 67-65, American Motors Matador 78-71, American Motors Pacer 80-75, American Motors Rambler 69, 60-58, American Motors Rebel 70-66, 60-58, American Motors Spirit 83-79, Audi 100 Series 77-72, Audi Fox 79-73, Audi Super 90 72, Austin America 70-68, Austin Marina 75-73, BMW 1600 71, BMW 1600-2 71, BMW 1602 71, BMW 1800 71, BMW 1802 71, BMW 2.8 Bavaria 71, BMW 2000 72-71, BMW 2000tii 72-71, BMW 2002 76-71, BMW 2002ti 71, BMW 2002tii 74-71, BMW 2500 71, BMW 2800 74-71, BMW 2800CS 71, BMW 3.0CS 74-72, BMW 3.0CSi 74-72, BMW 3.0S 74-71, BMW 3.0Si 76-75, BMW 320i 83-77, BMW 524td 86-85, BMW 528i 81-79, BMW 530i 78-75, BMW 533i 84-83, BMW 535i 88-85, BMW 630CSi 78-77, BMW 633CSi 84-78, BMW 635CSi 89-85, BMW 733i 84-78, BMW 735i 86-85, BMW Bavaria 74-72, BMW M3 91-88, BMW M5 88, BMW M6 88-87, Buick Apollo 75-73, Buick Centurion 73-71, Buick Century 05-73, Buick Commercial Chassis 93-91, Buick Electra 90-59, Buick Estate Wagon 83-70, 64-59, Buick GS 350 69-68, Buick GS 400 69-68, Buick GS 455 72-70, Buick GS 72-70, Buick Gran Sport 67-65, Buick Invicta 63, Buick LeSabre 05-59, Buick Park Avenue 05-91, Buick Reatta 91-88, Buick Regal 04-73, Buick Rendezvous 07-02, Buick Riviera 99-95, 93-63, Buick Roadmaster 93-91, 58-50, Buick Roadmaster Series 70 49-48, Buick Skyhawk 89-82, 80-75, Buick Skylark 91-75, 72-61, Buick Somerset 87-86, Buick Somerset Regal 85, Buick Special 69-61, Buick Sportwagon 72-64, Buick Terraza 06-05, Buick Wildcat 70-63, Cadillac 60 Special 93, Cadillac Allante 93-87, Cadillac Brougham 92-87, Cadillac Calais 76-65, Cadillac Cimarron 88-82,

Product Description - Invoice

Cooling System Adapter

Short Product Description

Cooling Sys Adapter

CTO

MX

Harmonized Tariff Code (HTS)

9026906000

Life Cycle Status Code

2

Life Cycle Status Description

Available to Order

SDR Required Flag

N

National Popularity Description

Next 15% of Product Group Sales Value

Maximum Cases per Pallet Layer

12

Pallet Layer Maximum

7
The STANT Cooling System Adapter contains no remanufactured components, and is designed to operate in either city or highway driving.
Warranty Information
New products purchased from our store are covered by a manufacturer warranty. Other than applicable manufacturer warranties, or as otherwise provided in these Terms & Conditions, there are no warranties, express or implied for any of our products, and we specifically disclaim any warranty of merchantability or fitness for a particular purpose for tires, aftermarket wheels, and tire & aftermarket wheel packages.
For other parts, we provide a limited warranty of 12MTH / 12K MILES from the date received by the original purchaser or installer, unless otherwise specified, which covers the replacement of a defective part(s). The warranty applies only to parts replacement with same or better quaity. For such cases, a full refund will be issued to the original purchaser. A refund or an exchange of a defective part will be processed only if it is accompanied by the original sales invoice. All items must be in their original condition and must not be damaged due to incorrect installation upon return. The warranty is limited only to the original purchaser and is non-transferable.
All items are given a limited 12MTH / 12K MILES warranty period by the manufacturer. The manufacturer will allow the parts to be covered by their warranty provided that the part was not modified by the buyer.
Under NO circumstances will our liability exceed the amount of the original sale.
Products damaged as a result of abuse, misuse, improper repairs or maintenance, improper installation, alteration, or modification will not be covered by the warranty.
The warranty does not cover airfreight charges, labor expenses, towing expenses, or rental car expenses resulting from installation errors. Return shipping is the responsibility of the buyer. We will not reimburse any return shipping charges incurred.
All returned items must have the RA (Return Authorization) number written outside the shipping box prior to return. The RA Numbers can be obtained by creating a return from within your account. Returned items without RA numbers will not be accepted.
Our liability does not cover lost or stolen packages mailed back by the customer containing the parts being claimed under warranty. Because the customer is the shipper, he/she is the only one who can file any lost claim with the shipping company. Therefore, the claim must be coordinated and processed through the shipping company by the customer.
---
---
Can't find what you are looking for? Try searching by one of these methods below.